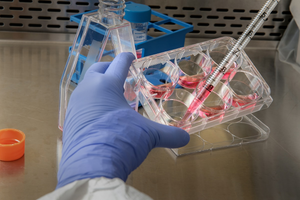 STEM CELL GROWTH MEDIUM
HIDEF-B8
Highly optimized stem cell medium for weekend-free cell maintenance
Defined Bioscience's HiDef-B8 is a complete, serum-free, defined formulation designed for the feeder-free maintenance and expansion of human pluripotent stem cells (PSCs) in an undifferentiated state. The HiDef-B8 medium is a unique formulation that offers the modern conveniences of a flexible feeding schedule (including weekend-free maintenance) and the ability to choose the matrices and passaging methods that best suit specific applications.
HiDef-B8 is provided in two formats to offer flexibility for use:
The HiDef-B8 complete medium kit, including the 400X Supplement vial and our DMEM/F12 basal medium;
The HiDef-B8 400X Supplement only (basal medium NOT included), for the modern convenience of basal medium choice.
HiDef-B8 contains insulin, ascorbic acid-2-phosphate, transferrin, sodium selenite, TGFB3, NRG1, and thermostable FGF2/bFGF. The addition of further components is not required.
QUALIFICATION OF HIDEF-B8
The gold-standard demonstration of the suitability of a hiPSC medium is the capacity to generate hiPSC lines and maintain them in long-term culture. Our standard hiPSC line 19c3 has been cultured for >100 passages (p) in HiDEF-B8 and maintained expression of markers of undifferentiated status (SSEA4 and TRA-1-60) by flow cytometry (p131 at time of assay). We also generated hiPSC lines from 37 patients using established protocols but using B8. These hiPSC lines maintained SSEA4 and TRA-1-60 expression in culture (up to p65 at time of assay). In B8 hiPSCs maintained an hESC-like morphology; positive immunofluorescent staining for SSEA4, POU5F1, SOX2, and TRA-1-60; and normal karyotype.
Demonstration of the expression of markers of undifferentiated status in hiPSC line 19c3 cultured in B8 from passage (p) 21 to p131 (left) and 37 individual hiPSC lines derived in B8 from p12 to p65 (right), assessed by flow cytometry.
Phase-contrast images (original magnification 103) of hiPSC line 19c3 p44 cultured in B8. Scale bar, 100 mm.
Expression of markers of undifferentiated status in a variety of B8-derived hiPSC lines. Scale bar, 100 mm.
Example G-banding karyotype analysis of four hiPSC lines derived in B8.